App in a day 040
Details

Created: Monday, 14 March 2011 11:24
March 4 2011 - MAD emergent Art center in Eindhoven hosted a one day workshop 'App in a day'. This was done in the scope of "Seven days of inspiration".
App developers and creatives inspirered each other to develop an App in less than 8 hours.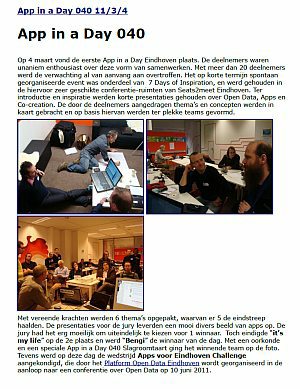 I proposed a tool to support people with? Aphasia to make it easier to find missing words.
The day was highly inspiring but instead of creating a working Aphasia-App we developed a new concept for managing once online presence. The idea received a honourable mention, unfourtunately not the first price because... we did not build the actual app!
Check the report of the day (in dutch): 'App in a day'
?
?
Nederlands
In het kader van "Seven days of inspiration" organiseerde MAD in Eindhoven 'App in a day'. Een bijeenkomst van 1 dag waarop software-ontwikkelaars en creatieven een App moeten ontwikkelen. Apps zijn kleine programma's voor mobile telefoons'en tablets.
Het was een inspirerende dag. Ik heb een concept voor een app voorgelegd aan een industrieel ontwerper en een software producent: een woord-zoek hulpmiddel voor afasie-patienten. De chemie binnen ons drietal leidde ertoe dat er een totaal nieuw concept werd bedacht om ieders persoonlijke web-présence te beheren. Far too big for an App! Laat staan in 1 dag. Het idee borrelt in onze hoofden en was in ieder geval voldoende voor een eervolle vermelding.
Verslag van de dag op: verslag 'App in a day'
Links
Seven days of inspiration
MAD emergent Art center
App in a day
App inventor, easy way to create an app. (beta)
?